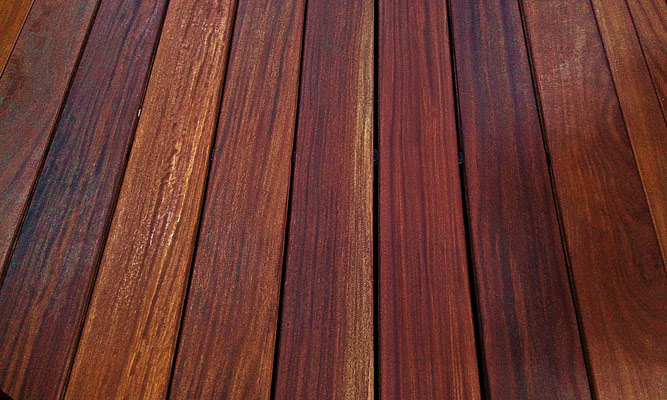 Decking
0.00
Wood is one of the most popular ideas for terraces. The warm touch of wood is incomparable. The look is captivating. You can install them at the front or back of your house.

Kiln dried. Unfinished. 5/4" x 4" x 2' to 8'
THE PRACTICAL ADVANTAGES OF WOOD DECKING
THAT YOU NEED TO KNOW
1. Colors and patterns that capture attention instantly
Can anything trump the natural, timeless beauty of wood decking? At Wooderra, we think that is very unlikely. The fact that there is a market tendency out there trying to mimic the look of natural wood decking by producing plastic decking speaks volume about the standard of genuine beauty that real wood conveys. An investment in authentic elegance is genuinely a good deal.
Wood decking creates a relaxing and tranquil outdoor living space by blending into the landscape naturally. Natural solid wood materials age over time with a distinctive character that no building materials can easily duplicate. Depending on the wood chosen, the aging process will differ.

2. Lifespan that exceeds that of its rivals
With proper care, hardwood decking can last for generations. Native tropical hardwoods are known to be naturally resistant to insects, which means measures like timber pressure treatment won't even be necessary. To have a material that has a natural shield from insects is useful considering decking is placed outdoors. On the other hand, soft timber like pine is much more vulnerable and often needs pressure treatment to ensure a certain level of performance.
Take Teak or Brazilian hardwood decking for example. Their average lifetimes go beyond that of pine, cedar, and synthetic decking. They naturally resist insects, rot, and decay, and there is no need to treat them with protective chemicals.
Not to mention Teak is dimensionally stable, allowing it to perform well in extreme climates. Teak decking weathers naturally to a beautiful silver gray patina. If maintaining its natural color is preferred, an application of a quality finish with ultraviolet shield is recommended.

3. Easy to install
Durable yet lightweight, wood decking is ideal for a quality finished project. Special tools are not required. It is easy to cut, saw, and drill, so special equipment is unnecessary. Exception is when you are working with an particularly hard and dense wood like Almendro, for which you might need carbide tools.
4. Ultra low maintenance
Hardwood is super easy to maintain. Some hardwood species simply need an application of UV finishes so the color won't fade, while others don't. Besides that, simply sweeping off or hosing down dirt are sufficient to keep your deck as new as the day it was installed.
5. Responsible timber
If you are an ecologically conscious buyer, you've come to the right place. One of the most important principles Wooderra embraces is to reduce carbon footprint to the minimum as much as possible. This is why with every tree felled, another tree is immediately planted on our plantations owned and managed by Panama Teak Forestry and Timber Resources Management, ensuring a consistent cycle of replenishment.
In addition to that, we offer submerged tropical hardwood which helps cut down the timber demand on land. As "timber rescuer",
we reclaim submerged tropical hardwoods from the waterbed of Lake Bayano and Lake Gatun. Working with staff that has much experience and expertise in this project, we are capable of restoring these trees without marring their exquisite beauty, traces of historical record, and impressive robustness.
It is worth noting that using wood is eco-friendlier. By using synthetic materials like composite decking, one might contribute to the toxification of the environment, as the manufacturing of plastic products results in pollution, and they often end up in landfills.
In a stark contrast, wood is a renewable, non-toxic material, which can be recycled throughout its life. While plastic takes literally thousands of years to decompose, wood is naturally biodegradable.
Wooderra has wood decking in diverse types of woods, in all sizes, and profiles that you need to build your exterior deck and siding projects. Contact us today to learn more about your options, pricing, and technical information.