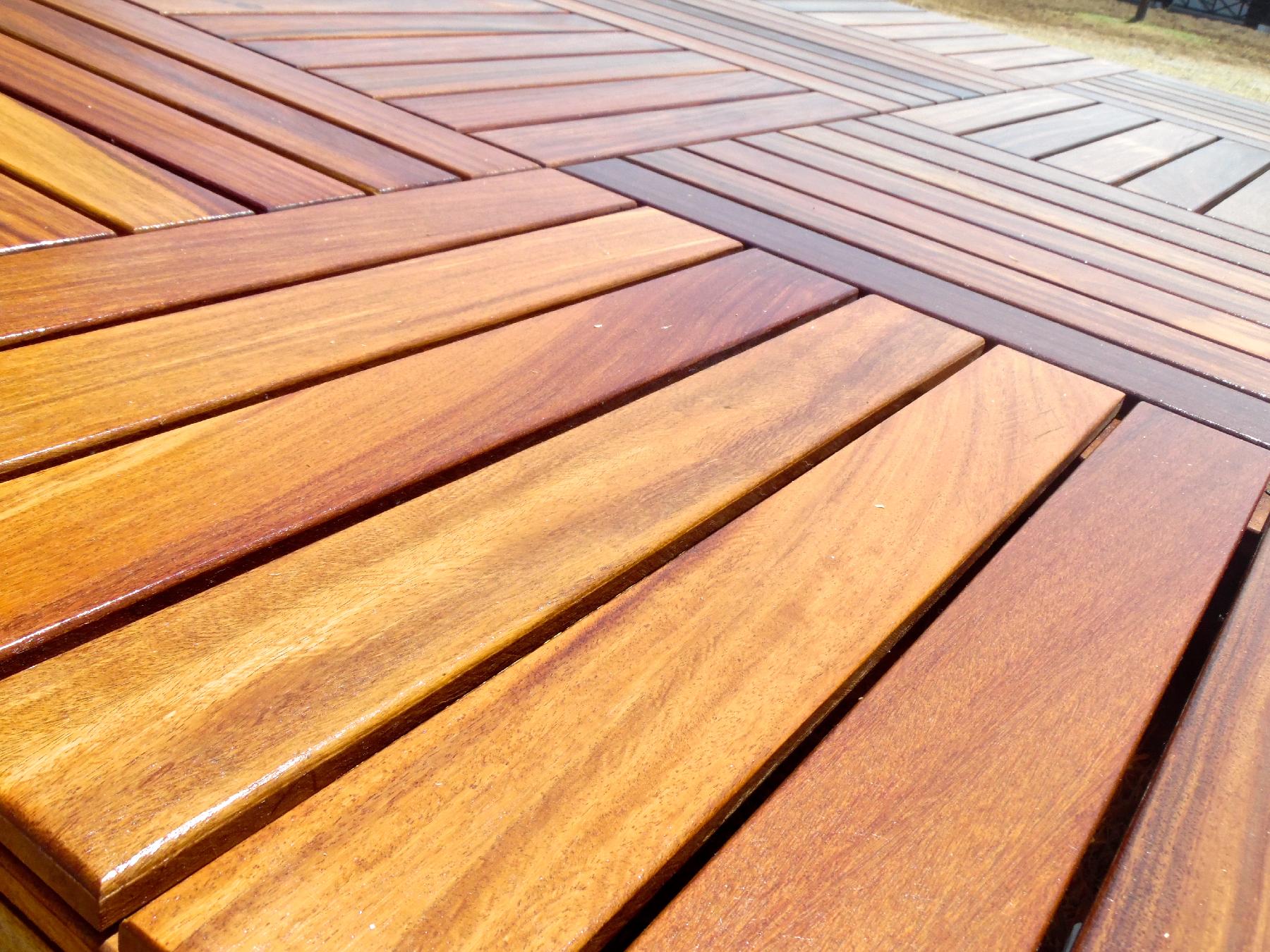 Deck Tile
0.00
Make your outdoor space cozy by installing our wood deck tiles. They are easy to install, you just have to snap them together.
Presentations:
Deck Tiles 1.5" por 2' x 2'Deck Tiles 1.5" por 2' x 2' a 45º
Available in Teak, Amargo Amargo or Almendro
Why deck tiles are an excellent choice?
Deck tiles are easy to install:
Wood deck tiles are a quick smart fix to upgrade old, damaged, discolored wood decks or equally troubled composite decks, or concrete slabs. They form a semi-permanent valuable wood deck. Advanced construction skills are required for installing deck tiles making them a great DIY project to start with no fuss and no mess. Few tools are required, installing them doesn't even involve raising a hammer. The only material easier to work with than deck tiles is a rug.
Low cost project:
Wood deck tiles are definitely an easy-enough wood deck project to accomplish by yourself without hiring a professional. Deck tiles are also budget-friendly compared to other materials. They can installed right on top of the existing surface, it saves you tons of money that you would otherwise have to spend on removing your existing wood deck or demolishing your patio. That saves time as well which homeowners with busy lifestyles can't afford to waste.
Time-saver:
Deck tiles are also very fast time saver to work with. They can just be snapped together. Turn a shabby outdoor area to a trendy wood deck in a matter of hours.
Floatable:
Deck tiles can be installed over any existing flat and stable surface without any difficulty. This translates into an arrays of possibilities to touch up an outdoor area without the need to lay anchors or joists.
Acclimation time saved:
Unlike wood flooring boards that need to sit in the area of installation for a few days, deck tiles don't need to be acclimatized, can be removed straight out of the box to build a wood deck just when it suits you.
Covering the flaws of existing floor surfaces:
Deck tiles stability guarantees to perform well over the most preexistent surface without the need to repair, given it is an old concrete or wood floor with minor or considerable damages. Certain major structural damages should be discussed and addressed before an installation of deck tiles.
Resistant to scratch:
Deck tiles are a worry-free option as they don't easily scratch. This is helpful especially if you have children or pets or if you plan to have an entertainment unit that involves a dart tournament located on the deck.
Customized design:
Depending on your interests, boards of deck tiles can either be set parallel, geometric or crisscross patterns, or in medallion style, promising to form a visually appealing wood deck. Deck tiles come in a wide range of colors, styles, and sizes allowing homeowners to express their design tastes.
Easy replacement of deck tiles:
Just how effortlessly you can install deck tiles at the beginning, damaged ones can be easily snapped out and replaced immediately.
A convenient option in rental or temporary spaces:
Deck tiles can be placed in a rental property and back in the box later with ease. Thanks to how convenient the installation is, as they basically can be floated and snapped together to build a wood deck. Deck tiles is the solution to tenants who want to transform that bare concrete of a balcony or patio but doesn't wish to spend too much to upgrade somebody else's property.