To Countertop or To Not Countertop?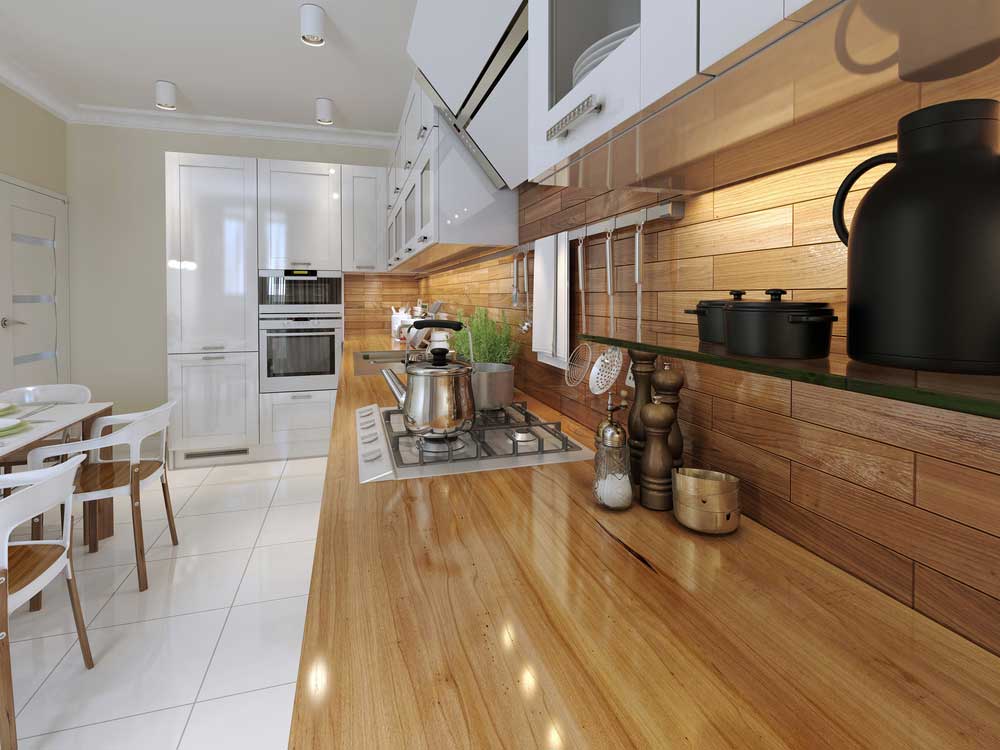 Countertops areas have undergone considerable improvements over the years. Today there is a huge array of choices of textures, patterns, colors to choose from, and materials such as natural hardwood, stained concrete, ceramic tile, glass, laminates, just to name a few. Settling on a choice from all these options can be daunting, because this surface area plays a tremendous role in terms of utility, performance, aesthetics and value in kitchens or bathrooms. It is important to choose a countertop material that can perform well based on function aesthetics, durability and value.

Wooderra brings you a guideline of the six most popular countertop materials along with their advantages and downsides to help you make an informed choice.
1. Wood Countertops
Despite the fierce competition with granite, engineered stones and solid surfaces, interest in the use of wood as a countertop material has seen increase in popularity.
Pros:
Stunning appearance: Wood offers a natural, sophisticated and elegant presentation and stands the test of function, durability and value with high marks. Look-alikes, for example, composite boards at first glance imitate the appearance of solid wood, however their beauty is only skin deep and cannot match solid wood's performance. It is harder to describe the lure of a wooden countertop but much easier to feel it.
Species such as Balsamo – a highly-praised candidate in the list of exotic hardwood flooring, with its appealing reddish color makes a great decorative countertop for your kitchen or bathroom.
Teak is not only a head-turner but also the most dimensionally stable species of all. More on wood countertop materials and the benefits they offer can be found in our ultimate wood countertops 101.
Warmth: There are two ways to understand this and both benefit you greatly. Wood provides a charming and inviting warm look. For many people a cold granite countertop is not as inviting as a warm wood countertop. Kitchens have become a favorite places for gatherings and wood provides a cozy feeling, in addition to its natural beauty.
Germ and bacteria resistance: Despite the misconception that wood countertops withhold bacteria and germs, microbilogical studies have proven that within 3 minutes, 99.9% of the bacteria die at the exposure of the wooden cutting board's surface. Wood is found to be safer and and a wiser alternative for dealing with bacteria, as compared to plastic countertop materials.
Solid work surface: It makes sense to choose wood countertops over ceramic tile ones, in, for example, baking prep areas, a kitchen island or a food chopping block. In fact, the only countertop material recommended for chopping, slicing, and cutting is wood. Plus, it doesn't damage your cutlery like other countertops would.
Go wood, go green: There is a misconception that the manufacturing of timber products exploits Mother Nature. That is only true with forest practices poorly managed in unsustainable ways. You'll be glad to learn Wooderra's employs sustainable forestry practices, and besides, we have a great source for reclaimed wood. The submerged tropical hardwood in Lake Bayano, located in Panama, is harvested directly by the indigenous people who know the species better than anyone. Countertops made of reclaimed timber are an environmentally conscious purchase whose popularity is growing rapidly.
Disadvantages:
Certain species of wood are prone to damage: some woods are simply too fragile to be used as a countertop material, as opposed to the species which are ideally suited for the task, as they are both structurally resilient and visually impressive.
Maintenance: As noble and natural as it is, a wood countertop requires more work than others to maintain its charm. A polyurethane seal can be a protector for a few years, or depending on its function, you may consider using a mineral oil finish that is less glossy. Consult with your installer on the sealer or finish that works best for the chosen wood.
Some homeowners just want a counter that does not need caring after installation. Others are willing to invest a bit more time in the care of a wood countertop in exchange for the benefits derived from this investment. A thorough maintenance every now and then is worth it, as it helps protect the wood's surface and adds value to your home.
2. Solid Surface Countertops
Origin: Solid surface materials are made of 100% polyester or 100% acrylic. Solid surface countertop can also be a combination of polyester or acrylic resins, with powdered pigments, fillers and then cast into slabs.
Pros:
Durability: They offer a considerable scratch resistance. Solid surface countertops are also resistant to certain types of bacteria and mildew.
Nice appearance: This countertop material has a unique composition and its presentation is a seamless, solid surface. Solid surface countertops is the go-to choice for designs with unusual shapes and configurations.
Easy to clean: Stains can be easily wiped down. For a more thorough cleaning session, use mild abrasive, water, and soap.
Disadvantages:
Vulnerability to deep scratches and heat: The countertop material is susceptible to damages inflicted by high-heat applications. The surface can be discolored, scorched, and possibly cracked upon contact with heat.
Direct cutting onto the surface is also not a good idea. Therefore, hot pads, cutting boards, and trivets are recommended.
Vulnerability to harsh chemicals: Liquids containing strong chemicals such as paint remover, oven cleaner or nail polish can wreak havoc on your solid surface countertops. Exposure to these heavy chemical components can be damaging for the surface of the countertops.
Price: While installation of wood countertop can be budget-friendly, it is costly to install solid surface countertops.
The countertop material is not suitable for DIY projects, which means professional installation should be considered to make sure the structure is stable. For a solid-surface countertop material, expect to pay $150 to $200 per square foot.
Environmentally unfriendly: Because of the non-renewable components that make up solid surface, this countertop material is not recyclable, resulting in a highly negative impact on the environment. Plus, the production and manufacturing of solid surface requires a significant amount of energy.
3. Plastic Laminate Countertops
Origin: Plastic laminate is made primarily of multiple layers of Kraft paper impregnated with plastic resins. Subjected to heat and very high pressure, the paper layers are bonded together. Only the topmost layer of the resultant surface is colored or patterned, giving plastic laminate its signature appearance.
Pros:
Widely available: Plastic laminate can be readily purchased at any local building centers and cabinet shops. Its popularity requires this countertop material to be available, in stock, making access to plastic laminate much easier as compared to others. Prices vary, depending on the laminate chosen, the complexity of edge treatments, and the size of the backsplash.
Easy maintenance: It is easy to keep plastic laminate countertops clean and disinfected. Added oils or finishes are not required.
Good working surface: This countertop material provides a sound surface with resistance to stain and grease. It can be durable if properly cared for.
Disadvantages:
Extreme vulnerability to scratches and water penetration: Since only the topmost layer carries the color and pattern, scratches on plastic laminate countertops are visible and cannot be sanded out like those on a wood countertop. It is virtually a mission impossible to repair when the countertop is scratched. Thus, homeowners have only two options: either to live with the scratch or replace the entire countertop.
The same goes with water penetration. It cannot be repaired once the countertop's seals have been damaged. A replacement is inevitable in such a scenario.
Emission of harmful gas and unpleasant odors: plastic laminate sheets are commonly made super thin (1/16"), requiring they be permanently glued to an underlayment of particle board for stability. Unfortunately, most particleboard emits formaldehyde vapors from urea-formaldehyde (UF) glues.
4. Concrete Countertops
Origin: Concrete countertops are made from a mixture of general-purpose mortar: 1 part cement to 3 parts sand. They are finished and polished, and any color can be added to them. Concrete countertops have an "industrial" aesthetic.
Pros:
Versatility: Homeowners with creative ideas for their project can take advantage of concrete's ability to become any shape, thickness, size, and any color through various stains, dyes, and coatings. Indeed, concrete countertops can be customized to express one's creativity in design.
Heat resistance: Concrete countertops are resistant to high heat. However, when colored and sealed, one should exercise caution when place hot pots or pans on their sealed surface as the heat can destroy or discolor the sealer.
Beauty improved with age: Concrete countertops attain their character over time as concrete is not a static material. Its appearance develops into a warm patina with age. This is somewhat comparable to the natural variations in color patina of wood countertops, depending on the species.
Disadvantages:
Natural imperfection: Because concrete countertops are hand finished, you should be prepared to be flexible with certain flaws and defects in the end result. If you prefer flawlessness, go for a countertop material that is machined and pristine.
Frequent seal application: To maintain the look, it is necessary to apply a sealer regularly, for concrete's porous nature and light color makes the blemishes on it very visible.
Vulnerable to stain, water and heat: In general, compared to almost any countertop material, they are noticeably more susceptible to staining and etching. Sealing will reduce the chances of concrete countertops being harmed by stain, heat and water damage. However, the countertop can look sloppy with sealing oil or moisture.
Cracking: Cracking is major concern when it comes to concrete countertops, especially when they are poured in place, as opposed to precast. This is probably due to the settling of a house or the result of faucets being screwed in too tightly, and not necessarily a reflection on the installer's skill level. Hairline cracks on the concrete countertop are difficult to remedy, and ironically, it is easier to fill and repair larger size cracks.
Price: Concrete countertops can be expensive. The budget for its installation depends on various factors, including the level of customization that's required. Plus, it can hardly be a do-it-yourself project so it is advisable to get professional help.
The costs can range from $85 to $100 per square foot for a high-quality, precast concrete countertop. This is just a guideline, and the price will vary as each project and customization is unique.
5. Ceramic Tile Countertops
Origin: ceramic tiles are made up of thin slabs of clay, water and sand, which are molded and baked in a kiln oven, then glazed. For countertops, ceramic tiles are adhered with thinset or mortar to a thick plywood substrate, and the intersections between the tiles are filled with grout to fill the gaps between tiles and create a unified surface. A grout sealer should also be applied to the grout lines, as this creates a seal that acts as a barrier that is resistant to stains, water and oils, and helps to keep the grout clean. Ceramic tiles can also be installed directly on top of a laminate surface countertop.
It is useful to know that ceramic tile's hardness is rated on a scale from 0 to 5. Tile rated from 0 to 2 is well suited for wall applications, however should be avoided as countertop material as it is too thin and will easily crack. The 3 rated tile can be used in most residential projects, and 4-5 are strong enough for commercial applications.
Pros:
Look: Ceramic tiles are found in a very broad range color, patterns, textures and sizes options, which will work with virtually any design style.
Its presentation can also be customized by good workmanship to create an unlimited number of patterns and designs on the countertop. Different colors, decorative tile pieces, and textures can also be used to match any design scheme.
Price: This type of countertop material is considerably less expensive than you would spend on a granite or quartz slab, however, intricate customized tiles or a complex installation scheme can add up to the total cost.
High resistance to heat and stain.
Disadvantages:
Cracking: Ceramic tile countertops can crack very easily when something heavy is dropped on it, or from forceful leaning on the counter's edge if the countertop is not properly supported. Same as with concrete countertops, there is no way to remedy a cracked tile, except to remove and replace it.
Keep in mind that matching tiles can be a real challenge if you need a replacement, since a new tile may be slightly different and color from the original. For this reason, it's best to keep a few extra tiles from the installation just in case.
Special care of grout joints: Grout joints between the tiles can be a challenge to keep clean, and are prone to staining, especially when liquids are constantly spilled on them. Small pieces food particles can get in between the titles, plus the uneven surface makes simply wiping down with a cloth an inadequate solution. This translates into additional time to get ceramic tile countertop clean. Wipe any spill immediately to prevent the liquid from staining the grout.
Be gentle: aggressive scrubbing and abrasive cleaning product will harm the tile's high-gloss finish.
6. Natural Stone Countertop
The first and principal countertop materials were wood and stone before synthetic materials came to market. While wood has its own noble qualities and the advantage of being a natural and durable material, natural stone also has plenty to offer. The most common natural stones used as countertop material are soapstone, granite, and slate. We will break down the three types by looking at their strengths and drawbacks briefly.
Soapstone: Because it is composed of mostly mineral talc, soapstone gives a smooth feeling to the touch. Typically, the soapstone used as a countertop material has a considerable amount of quartz in it, which constitutes its hardness.
Pros:
Beautiful colors: Soapstone is often dark-greenish black, and a lighter natural green-gray is also common.
Softness: Unlike hard materials like concrete, soapstone countertop gives a very smooth, matte feel.
Heat and stain resistance: Soapstone is unaffected by heat. This has been proven by its long historical background of being used for stoves. It is not uncommon to find soapstone sinks and wood-burning stoves in the US, which were built in the 1800s and still function today. Soapstone is dense enough so that bacteria can't penetrate it.
Acid resistance: Etching from acids can be prevented, thanks to soapstone's chemically natural composition.
Durability: soapstone can last for decades given proper maintenance
Disadvantages:
Softness: While soapstone's soft feel might be a desired quality to some, it can also pose some challenges along the way. Softer than other stone countertop materials means soapstone's edges and corners will be altered much easier and quicker over time. The accumulation of dents, nicks and scratches is possible too. These imperfections and accidents can be sanded out, but its living patina might be ruined.
Porous: Although acids and bacteria can't mess with soapstone countertops, they are porous and prone to stains.
Sustainability: While its natural rival wood receives green kudos for its ecologically harmless production methods, this is rather soapstone's weakness since the mining of soapstone requires a massive amount of energy and resources. For this reason, while soapstone has definite desirable qualities, it is far from sustainable, thus removing it as a contender for "ecologically beneficial" materials awarded to wood.
Granite: Granite consists of at least 20% quartz by volume, sometimes also some feldspar and mica. This igneous stone is mined nearly worldwide, including quarries in China, Italy, Norway, Brazil, and India. In the United States, the biggest granite mine is reportedly located near Barre, Vermont.
Pros:
Differences in color: Granite offers a wide variety of colors, including vibrant blues, various browns, mottled white, beige, midnight black, and deep red.
Stain resistant: Granite, after being cut and polished, is treated with an impregnating sealer. Given proper cleaning with a stone cleaner, this treatment can last for a decade. The sealer can also make granite countertop impervious to heat and water. This amazing trait makes up granite countertop's durability.
Disadvantages:
Environmental impact: Similar to the mining of soapstone, granite requires large amounts of energy to mine and transport. Plus, the mining is extremely resource-intensive.
Expensive: Granite countertop is expensive despite the fact that its widely available and its popularity has somewhat stabilized prices. Factors determining its price are the granite color, the fabrication's complexity, thickness and origin, so expect to pay around $75 to over $400 per square foot. Remember to add the labor-intensive and costly installation, resealing, special finishes, and edge details which all add up to the final price.
Slate: Another elegant choice for countertop material is slate, which is formed on ancient sea beds. Essentially compacted mud, slate is a siliceous stone, similarly to granite, which derives from clay and sedimentary shale. Slate is, durable, easy to clean, attractive and very affordable
Pros:
Appearance: Slate's egg-shell matte appearance does not reflect light, which means it is not as shiny as its glossy granite and marble counterpart.
Handsome colors: Slate is available in a wide array of lovely shades, including gray, pewter, charcoal, black, sometimes highlight of blue, green or red can be found.
Resistance: Slate countertops won't easily scratch or gouge. Slate is impervious to heat and instead, they work well together; heat is absorbed by slate, dissipating it so it does not remain focused in one spot. This countertop material is also resistant to stains and additives.
Disadvantages:
Price: expect to pay more for black or red-tones, whereas common shades like blue, gray, or brown are affordable.
Sharp corners: The countertop's corners can be a little brittle and they are sharp.. Slate countertops should be installed by a professional who will ensure proper care is exercised in rounding and smoothing the material's edges beforehand.
To countertop this or to not countertop that?
We don't have one correct answer for all the unique countertop projects, however we do know that there are a many choices and few guidelines you should consider of before choosing any countertop material:
Plan out about 10-15% of your remodeling budget for the countertops and installation. This is a good rule of thumb so that your countertop material and design live up to your expectations in terms of and function.
Solid surface and natural stone countertops. They will look very much the same in the showroom as they will when installed in the home - homogeneous and uniform.
Wood countertops. If you fancy a more natural-looking, bold countertop material, consider wood. Its sophisticated beauty can last for generations with proper and moderate maintenance, and is much healthier for our deteriorating environment.
Colors and trends come and go. Consider a countertop material that is classy, sophisticated, whose handsomeness stands the test of time, and adds grace and value to your property.