Exotic Hardwood Flooring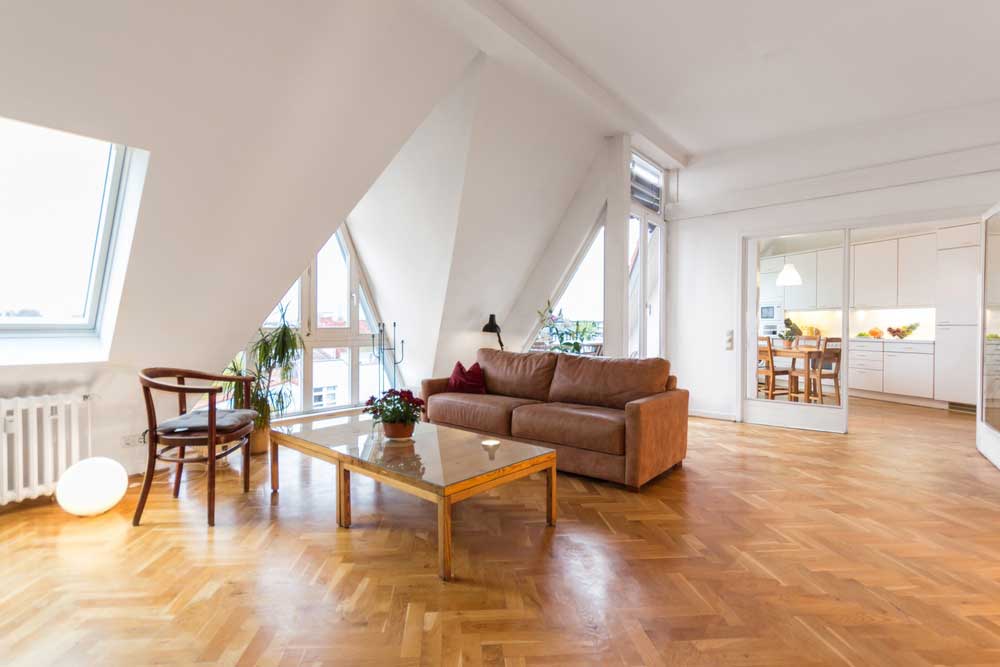 With a stunningly striking appearance, exotic tropical hardwood flooring offers an instant pop in a modern/ contemporary interior but with sophistication and elegance. As an educated homeowner, one priority when selecting hardwood flooring is to become familiar with the qualities and working properties of the most popular exotic tropical hardwood flooring, such as Cumaru, Balsamo and Tigerwood.
1. BALSAMO FLOORING (or Santos Mahogany in US Flooring market, Cabreuva Vermelha in Brazil, Incienso in Argentina, Paraguay)
Balsamo flooring's exotic beauty and basic characteristics
Magnificent rich reddish brown hues makes it an instant head-turner, Balsamo flooring offers a bold statement to your interiors. Its rich red hues with stripes of purples can add interest, which is why Balsamo flooring is so high in demand.
Balsamo's flooring fine texture and sophisticated patterns are visible especially in solid, unfinished flooring, in contrast to the factory-processed or heavily chemically treated variety.
Balsamo's natural fragrance has been utilized in the production of perfume.
Typically harvested in Central America, Balsamo is one of the most popular hardwood in demand, which Wooderra has been harvesting in a sustainably responsible manner from Lake Bayano. As Balsamo was becoming an endangered species in the past, choosing an eco-friendly source makes this an environmentally responsible choice.
Balsamo flooring's strength and durability
Balsamo is rated 2160 in the Janka scale, which makes it flexible and easy enough to work with and a durable option for hardwood flooring. For commercial applications where heavy foot traffic is expected, you can also go for Brazilian Teak, which is tropical hardwood with a higher Janka-rating. For lower traffic areas, however, Balsamo flooring still works efficiently.
On the grounds that it is much harder and heavier than conventional woods such as pine or bitterwood, Balsamo flooring comes with low linear shrinkage and also with higher resistance to scratches, rotting, fungi, dents, insect attacks or when objects are dropped on the floor. Although there is a difference between Balsamo and Brazilian Teak in the Janka scale, both offer homeowners the benefit of strong resistance to damages or decay.
A few notes when it comes to installation
As mentioned earlier, heavy foot traffic areas such as living room or kitchen won't be a problem for Balsamo flooring to handle. Balsamo flooring is not as water-resistant as Brazilian Teak, so installing in a moderately humid areas is advisable. Because it is ranked as a semi-hard species, it has reported to behave well with machines. Sanding Balsamo flooring is much easier as compared to Brazilian Teak. In the family of hardwood flooring, Balsamo flooring is fairly easy to nail and screw, so installation is fairly easy when done by a professional.
Balsamo shares the same nature of oily residue with Brazilian Teak, which might make it difficult to apply a finish. To make it less complicated for you, implementing air dry finish will do the job with little defects. One thing to keep in mind is that during the sanding and finishing stage, Balsamo's sawdust might evoke allergic reaction to people with sensitive skin.
Although prefinished, solid Balsamo flooring is a reasonable choice, as it saves you from sawdust or sanding issues already processed at the factory before delivery, the unfinished version of solid Balsamo flooring can be sanded, finished and installed in your home to your specifications, while retaining the authentic grain and pattern when installed by a professional.
2. CUMARU FLOORING (or Brazilian Teak – most common name, Brazilian Cumaru, Cumaru, Almendro or Brazilian Chestnut)
Brazilian Teak flooring's basic characteristics
Commonly used in high quality interior/exterior flooring, Brazilian Teak is found different shades, either reddish chestnut or dark chestnut.
Once installed, Brazilian Teak flooring reveals golden brown hues with tight grain patterns owing to its remarkable density. It is also characterized by its distinctive fragrance present in solid unfinished flooring, which has not been factory-processed and heavily chemically treated.
Brazilian Teak is an exotic tropical hardwood native to Panama, Nicaragua, Colombia and Ecuador. Wooderra has a limited supply of Almendro from sustainable sources, as well as salvaged wood from the man-made lakes in Panama, such as Lake Bayano.
Brazilian Teak flooring's strength and durability
When it comes to the strength of an exotic hardwood, we can look at the Janka hardness scale 0-4000 lbs. Known to be one of the hardest woods in the world, Brazilian Teak is rated 3540/4000 in the Janka scale. This characteristic makes Brazilian Teak flooring resistant to strong contact pressure. This exquisite type of flooring has proven to be super durable, and it has been used in marine applications for a considerable amount of time.
Because it is a heavy hard wood, Brazilian Teak flooring has low susceptibility to shrinkage and can withstand denting, wear, tear, scrapes or scratches more than any other wood flooring. Brazilian Teak is impervious to organic invaders like fungi, insects, mildew and so on. Homeowners can enjoy the benefits of Brazilian Teak's dense grains, durability and adaptability to it's environment.
A few notes when it comes to installation
Brazilian Teak flooring can be installed in basically in any area of your house, interior or exterior, heavy traffic, or humid conditions since it's remarkably tough and highly water-resistant. Due to Brazilian Teak's hardness, carbide tools, along with pre-drilling are usually required to prevent ruining other conventional or DYI instruments.
Sanding can be a tricky step because scratches on the surface are visible when finished. When it comes to finishing, oil treatments don't work well on Brazilian Teak and results in not drying. Hence, water-based finishes are recommended for optimum results.
3. TIGERWOOD FLOORING
Tigerwood flooring's basic characteristics
Tigerwood flooring is found in a color palette which ranges from pale cream through russet brown. Tigerwood's irregular dark, longitudinal bands or stripes resemble a tiger's coat, hence the name of this exotic species.
Tigerwood flooring color changes to a sharper hue of darker brown when it is exposed to sunlight overtime. This is common for any exotic or conventional hardwood species.
On the lighter end of the palette, the bold color contrast is more subtle. Tigerwood does not have a particular odor, so it's a good choice for homeowners who are sensitive to fragrances.
This eye-catching species is native to the tropical areas of Africa and is also being harvested in Mexico, Colombia, Venezuela, Brazil or Ecuador.
In addition to Tigerwood's excellent quality as lumber, it's also well-known as a source of nuts. Tiger wood has gained in popularity and there is high demand, which is why Wooderra and other responsible providers have been highly cautious about Tigerwood's sustainable plantation and harvesting.
Tigerwood flooring's strength and durability for your benefits
In addition to sharing the same Janka rating of 2160 with Balsamo, Tigerwood flooring also has other similar characteristics, such as strength and durability, natural resistance to decay, wear/tear or insects, the protective mechanism which Brazilian Teak and Balsamo also enjoy. Tigerwood flooring has also been proven to repel white or brown organic rot.
A few notes when it comes to installation
Tigerwood flooring installation may be challenging for the DIY crowd, since it requires the right tools for working with this hard wood. Tigerwood flooring may be difficult to glue together, owing to the wood's natural oil properties.
Same as with Balsamo which is also rich in oil, water-bases finishes guarantee the best result, as opposed to oil-based finishes. Water based finished air-dry relatively fast. Once finished, Tigerwood flooring is dimensionally stable and not susceptible to shrinkage.
Another advantage of installing Tigerwood flooring is that it can be used in any area of the house. It can withstand heavy traffic areas and moisture conditions. However, special care must be exercised when installing wood flooring in soaking areas such as bathroom to preserve its durability.
Recap on the qualities of the most exotic tropical hardwood flooring types
Level of durability – Janka hardness scale
0 lbs 4000 lbs
Brazilian Teak flooring: 3540
Balsamo flooring: 2160
Tigerwood flooring: 2160
Exotic characteristics
Brazilian Teak: reddish/ dark chestnut color
(Cumaru) Smooth, distinctive fragrance, tight grain patterns
Balsamo flooring: rich reddish brown, strips of purples, interesting scent
Interlocked grains, fine texture
Tigerwood flooring: reddish/orange/ russet brown, distinctive stripes
No particular odor, irregular dark longitudinal bands
Exotic hardwood flooring like Tigerwood, Brazilian Teak or Balsamo are all excellent flooring choices for your home. The main difference lies in your preferences of the color, grain and patterns, since these all sharing similar level of strength and resistance.