The Ultimate Wood Countertops 101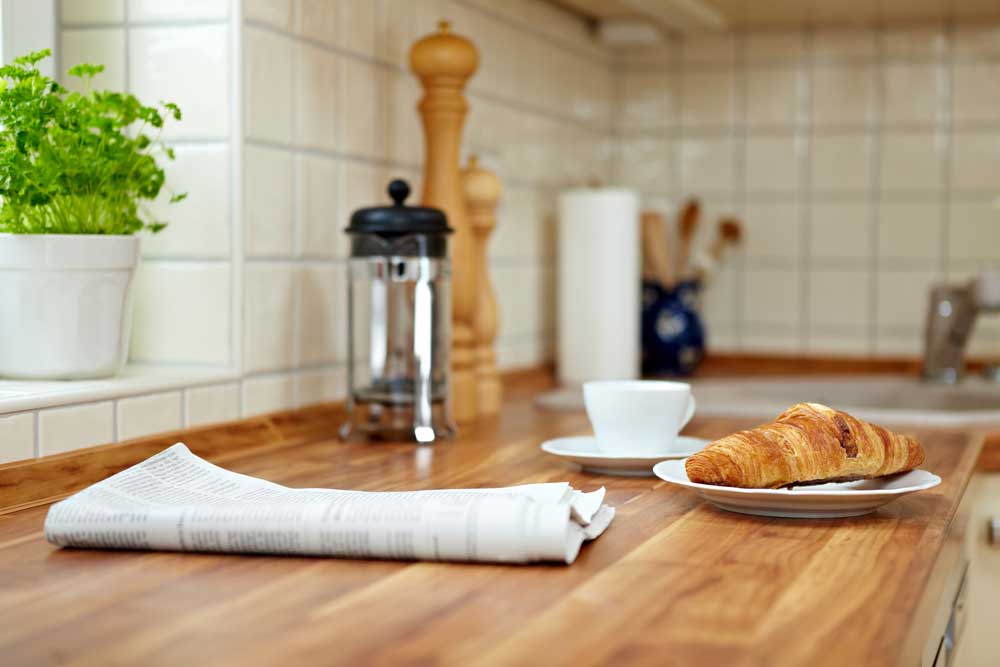 It is no accident wood countertop has been a favorite standard in interior decor since the early 20th century. The noble virtues of wood, and its unique beauty, function and warmth have made it a popular choice for discriminating tastes. The quality of wood countertops is determined by all the elements incorporated in the manufacturing, including the species of wood, the color, grain orientation and stain, maintenance, and so on.

Wood countertop receives high praises from homeowners and home designers, and yet, making your selection can be challenging, since there are a number of issues to consider, from to function. This is the reason why Wooderra provides a comprehensive list of the questions and considerations when selecting your wood countertops. Wooderra will shed some light to help you gain a deeper understanding of why wood countertops are such a favorite, what they have to offer, how they perform, and what wood materials are available and suitable for your interior project.
When did the wood countertop trend start?
Wood and stone were used to produce the earliest countertop materials in the olden days. Back then, those who cooked near to an open flame or over a fireplace were using fieldstone hearths or wood countertops for their food preparations. As cooking started to migrate to a dedicated kitchen area, the most available materials for countertops were still stone and wood.
In the early 1900s, the innovation of gluing pieces of hard maple together to form big blocks gave birth to the common butcherblock that we know today. The traditional wood look transformed the earliest form of countertop and resulted in a more durable, stronger surface. Such an advent increased the productivity of meat cutters' cleavers.
Wood countertops' strengths
1. Impressive appearance
Wood offers an inviting and warm look, making it an ideal choice for kitchens – a place where good food is made and family gatherings happen. Their rich, deep, and lustrous appearance add values to any kitchen design.
2. Design flexibility
By "any kitchen design", we meant all styles. This includes French country, Old World, contemporary, traditional, transitional, country, and eclectic style. Wood countertops go well with all designs you can possibly imagine.
3. The warm feeling
We are not referring to its warm color, but rather the actual warmth one feels touching wood countertops. It is literally warmer than countertops made of a lot of other materials; for instance, concrete, stone, or tile.
4. A green choice for a green homeowner
Reclaimed wood was not commonly used to make countertops, but that is no longer the case. For instance, countertops made of submerged tropical hardwood, which is timber salvaged from Lake Bayano, Panama, are absolutely stunning and environmentally sustainable.
Wood countertops have become an integral part of the green modeling movement since the practice of utilizing salvaged woods from recycled sources is highly sustainable. By disassembling old wood structures, much of the reclaimed wood is being re-purposed, instead of being demolished and dumped at a land fill. Unlike their counterpart - solid surface or laminate countertops, wood countertops are biodegradable after running their full course.
5. Exceptional work surface
On wood countertops, you can eat, cut, and pretty much do almost anything. Sounds like banging or clinking are unheard of when you place pans and glasses on wood countertops.
When some cutting is done on wood countertop's surface, it quietens the whir of knives, while such noise is amplified by stone countertops. What's more, wood cutting boards are more impact resistant, so breakage is less likely, compared to its counterparts.
It is worth noting that not all wood countertops are adequate for kitchen tasks, such as cutting, chopping, and so on. Butcherblock countertops are the ideal candidate for such type of work. On the other hand, if a more elaborately decorative wood countertops is employed, it is recommended to limit any activity that might mar the surface. These types of Wood countertops are unofficially categorized as decorative type.
As an example, a kitchen island – their wood countertops usually fall in the decorative wood category. Many homeowners use it an entertaining station or alternative eating area instead of a food prep station that might include cooking appliances.
6. Budget-friendly option
Wood countertops are often cheaper than other materials. Instead of paying for natural stone or engineered materials which would cost double, consider buying a butcher-block counter made from teak, birch or beech. These natural materials offer high value advantages over their counterparts, and add sophistication. This is why wood countertops are the go-to option for many high-class homes.
7. Easy installation and refinishing
Wood countertops can be an easy DIY project. Depending on the width and length of areas around sinks, corners, and appliances, homeowners can cut prefab butcher-block tops that fit the measurement. The same cannot be said for stone countertop installation. Consider hiring an expert if you are not confident in installing the wood countertops yourself. A little investment goes a long way.
Furthermore, wood countertops can be refinished by sanding out the deep gouges, even burn marks, and knife scratches. Countertops made of other materials, such as lava stone are super hard to refinish.
The importance of wood grain orientation on your countertops
Important elements like esthetics, durability, and functionality are all determined by the wood species and interestingly, the grain orientation on the wood countertop's top surface.
The most basic terms that describe grain orientation you will come across often are: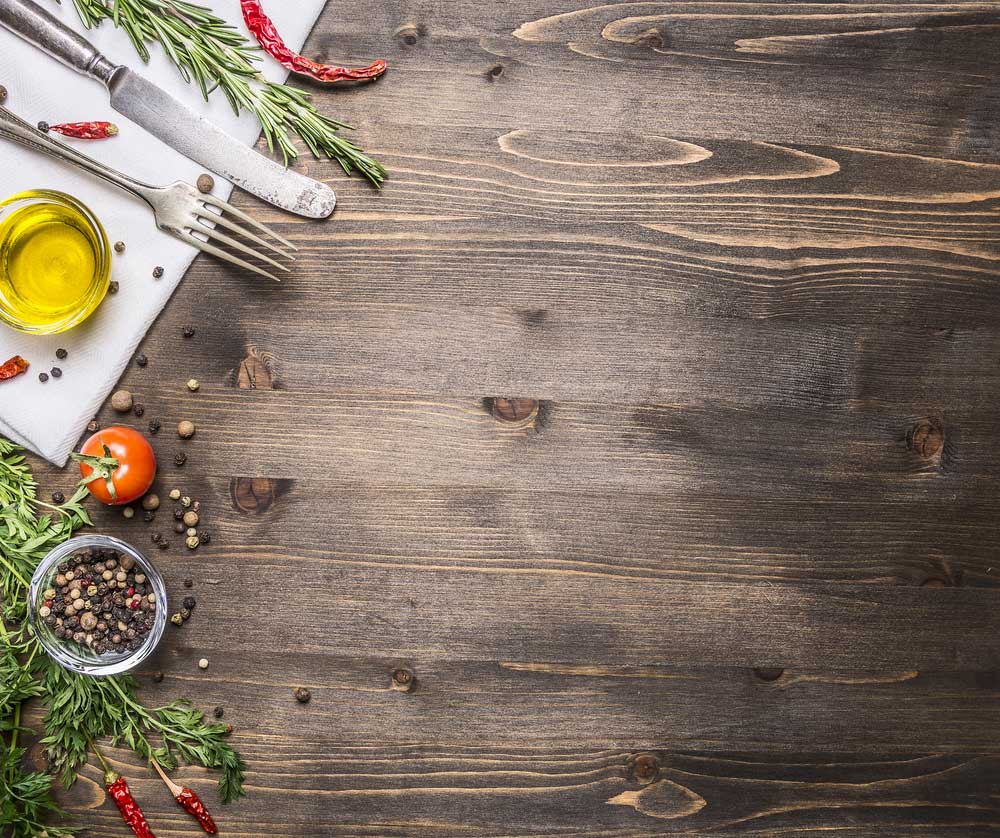 Face grain (also known as plank grain or flat grain)
Face grain orientation highlights the wood's natural patterns by producing an almost seamless surface on the countertops. Such a presentation is formed when the boards are laid flat and edge-glued together. To answer the question which grain orientation is the most decorative of all, face grain wood countertop is the one. The reason is that compared to the other two grain orientations, it reveals more of the grain of the wood. Then again, soft areas in the grain might be exposed in this orientation, making it the softest of the three varieties. That translates into less resistance to scratches, dents and dings. This is why wood countertops with face grain orientations are best used for a decorative purpose. Kitchen islands, table tops, desks, or bar surface are ideal locations.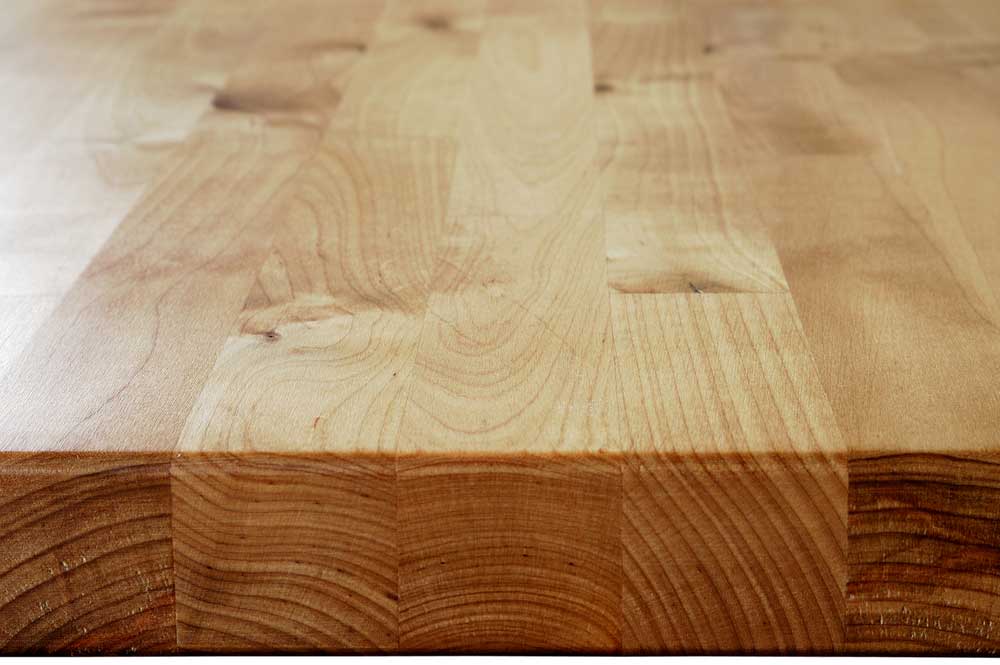 The most common type of butcherblock countertops has edge grain orientation. Boards are positioned on their sides and glued, so that the work surface of the wood countertop is formed by the narrow edge. The pieces may have extended lengths with no joints. You might also come across strips in random lengths that are finger jointed. Compared to countertops with face grain orientation, edge grain is typically more durable and functions better as a workhorse. Butcherlock countertops made of edge grain orientation can also be less pricey than other countertops. Large areas such as a long kitchen counter or kitchen island top are best for edge grain wood countertops.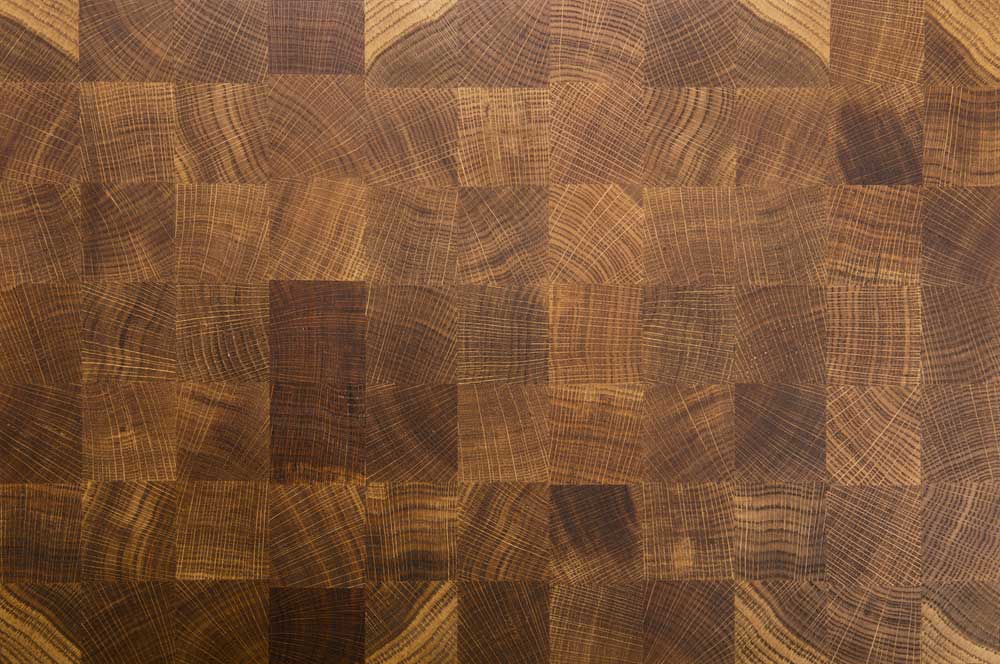 Blocks of end grain wood countertops are made by orienting the ends of the wood planks upward, which form the work surface. End-grain butcherblocks are usually about 40% more expensive than edge grain ones because there are more wood and labor required in the production. What makes end grain wood countertops cost more is its thickness, which increases cupping and warping resistance. Thus, the strength of this type of wood countertop makes it suitable for cutting operations; plus, the work surface is also easy on cutting utensils.
Timber materials for wood countertops
1. Hard Maple Commonly used for its sapwood rather than heartwood, Hard Maple is unique in that way. Its sapwood varies from an almost white, to a creamy color, and sometimes with a golden or reddish hue. Hard Maple's heartwood, on the other hand, is typically a darker reddish brown. Butcherblock countertops made of Hard Maple in straight, simple grain have a beautiful appearance. They perform with great durability and resistance to scraping.
2. Teak Known as the noblest of all woods, teak has an exotic beauty and its color ranges from a rich golden to a medium brown. Teak countertops are reliable for their sturdiness and excellent performance. In addition to its attractive warm appearance, teak possesses a natural oil content, making the species repellant to moisture, and this a huge advantage when we consider the fact that water generally is a natural enemy of wood. Teak countertops are ideally suited for function, and have remarkable durability in the kitchen areas. Since the species is the most dimensionally stable timber, teak flooring is also among the most favorite item in any home.
3. Tigerwood As a species worthy of its handsome name, Tiger heartwood has irregular streaks of dark brown to black running on top of a medium reddish brown. Its striped quality determines one of the defining characteristic of Tigerwood countertops. Tigerwood is not often made in butcherblock styles. Because of its hardness, the species can undoubtedly make an impressive and lasting statement in any style, in any kitchen. Tigerwood also resists moisture absorption, though not as effectively as teak. Thanks to its excellent weathering properties and durability, Tigerwood is listed among the top choices for exotic hardwood flooring.
4. Black Walnut Black Walnut is probably one of the most popular woods in home decoration because of its powerful appearance and toughness. The color has a range from a lighter brown to a dark chocolate brown, accentuated with darker brown streaks. Its appearance might resemble with that of Tigerwood, but the species is not as popular as Tigerwood.
5. Cherry Identified as a classic American wood, Cherry has a subtle red hue that darkens with age. It can be used for multiple purposes, including butcherblocks, pianos, and furniture construction. Cherry's smooth finish communicates a sophisticated look.
6. Zebrawood With a resemblance of a zebra's stripes, the species is cream color with dark blackish brown streaks. Zebrawood countertops can be employed as "wow" factor for your kitchen, all while performing with good durability.
7. Bamboo Most people are familiar with cutting boards made of bamboo so it would be no surprise to see this species on the countertop list. Its color varies from a pale yellow to almost white. Bamboo has a clean and modern presentation, which is coupled with sturdiness. Many bamboo species mature quickly after two to three years, making it one of the most rapidly renewable timber. Eco-friendly homeowners may go for bamboo countertops but should be aware of its susceptibility to mold and fungi. Bamboo countertops are available in whole grain design or edgy parquet design.
8. Wormy Chestnut Wormy Chestnut countertops add a rustic charm to those who are fond of antique or unpolished design for their country-looking home. The species is usually salvaged from old structures and repurposed as reclaimed lumber, making it an environmentally friendly choice. Despite its unique appearance, Wormy Chestnut is reportedly softer compared to other kinds and should not be purchased when it comes in butcherblock countertops.
9. Beech Beech used to be left untouched before the chainsaw was invented due to its remarkable weight and toughness. The species is now available almost anywhere and is relatively affordable. Beech is a pale creamy color, sometimes with an orange or pink hue.
10. Balsamo Typically known as Santos Mahogany in the US market, Balsamo stands out with its impressive rich reddish brown color. Balsamo is also a hot item in the flooring market thanks to its sophisticated patterns and fine texture. However, it is not recommended for use as a cutting board due to its softness, but rather serve as a decorative function for your interior design, so that its considerable elegance does not go to waste.
Find the wood countertop that best suits your home
There is no one-size-fit-all answer, as each homeowner has a unique requirement. It all depends on your lifestyle, your home's overall design, how much time you would spend on maintenance, the frequency of your cooking, budget, etc. Depending on the timber you choose, and the grain orientation, wood countertops offer significant resilience and act as an instant attention grabber, with great sophistication and elegance. If you appreciate wood's natural beauty, want to go green, and are willing to set aside the time for maintenance, wood countertops are the ultimate choice for your home.
Recap on the qualities of wood countertops:
A rich history dated back to even before a dedicated kitchen area was invented
Significant benefits wood countertops offer:

Gorgeous appearance
Flexibility with any interior design
The warm feeling compared to the cold feeling of stone, granite, concrete, etc.
A environmentally conscious choice for a green homeowner
Excellent work surface
Budget-friendly option
Easy to install and refinish

How different grain orientations affect the performance of wood countertops

End grain: possibly the most expensive, the most abrasion resistant work surface among the three grain orientations
Edge grain: offers better work surface than face grain countertops, less expensive than other countertop types
Face grain: the most decorative among the three, not as durable and scratch or dent resistance as end grain and edge grain wood countertops

An array of abundant materials for wood countertops that come in different colors, styles, patterns, levels of excellent performance, and prices

Hard Maple
Teak
Tigerwood
Black Walnut
Cherry
Zebrawood
Bamboo
Wormy Chestnut
Beech
Balsamo