Teak decking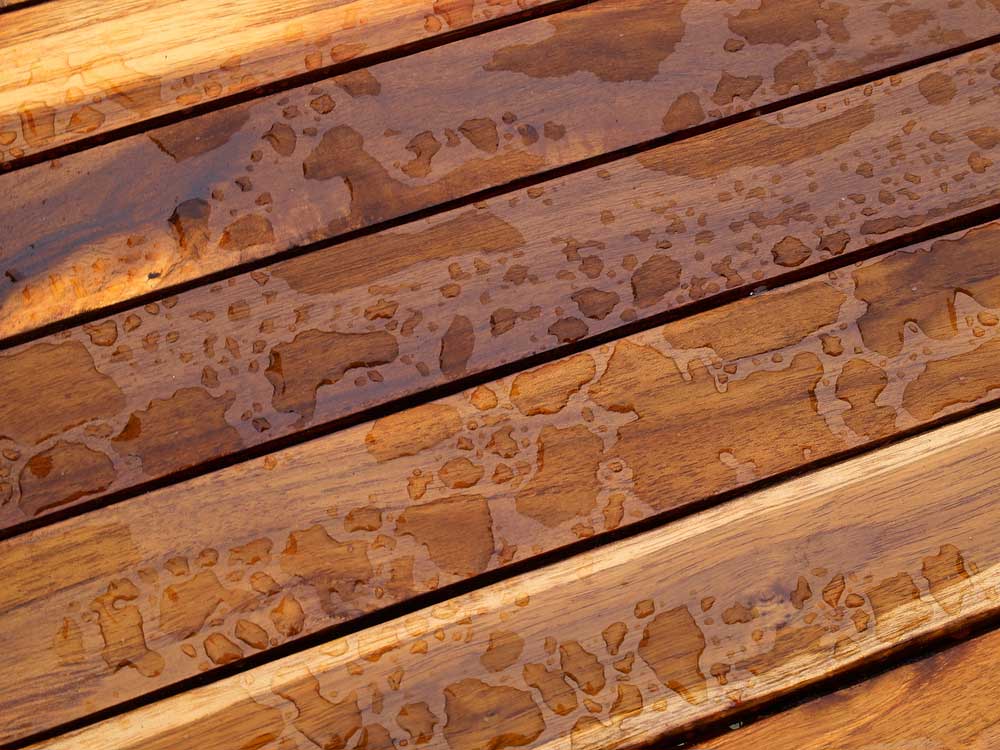 Timber decking is undoubtedly among the most attractive exterior options for your decking. An exterior space where you can dine, entertain or just simply relax will enhance quality time at home, and worth the investment. Solid wood decks, striking in appearance, can last for a substantial amount of time, and require uncomplicated maintenance, which make them a favorite among homeowners anywhere. As a favorite among all tropical hardwood species, teak is considered a top choice when it comes to decking materials, endorsed by professionals. We will tell you about teak's performance and its benefits as decking material.
TEAK'S PROFILE AND VISUAL QUALITY
Teak (Tectona Grandis) is truly among the most stunning and natural hardwood materials that can be used for all aspects of an architectural project, either indoors, such as teak flooring, paneling or in the exterior spaces, like decking and landscaping projects. The species is native to Southern Asian regions, but owing to the increasingly high demands that makes it a worldwide favorite, plantations have been spread throughout tropical regions of Africa, Asia, and also Latin America.
Teak heartwood tends to be a golden brown, which darkens with age. The heartwood requires long rotations in its plantations. Studies in India have found that rotations which are longer than 8 years are required for the production of high-value timber logs. Teak deck provides considerable aesthetic appeal that is in harmony with its natural surroundings.
Teak's texture is another particular feature that makes it a great timber choice for decking. The grains are straight, though some logs appear to be interlocked or wavy. The authentic feel of unfinished teak is what makes it outstanding and superior to synthetic decking materials. Teak's extremely closed-grained texture promises to provide a comfortable underfoot surface, either sitting, walking, or even lying down.
Depending on your colour preference, you can choose to stain your teak decking boards, given the fact that teak's dimensional stability makes this process totally workable. Another option is to leave teak's natural color on display, unstained, you are fond of the natural look of teak. You can add a clear finish as a seal. When left to age naturally, teak decks transform to a silver shade.
For homeowners who are environmentally-conscious, you will be glad to know that teak is a sustainable material and is not listed on the International Union for Conservation of Nature (IUCN) of Threatened Species – a renowned international organization whose job involves sustainable use of natural resources, and nature conservation. It is worth noting that a wood deck is a far more eco-beneficial choice, as compared to other man-made synthetic materials such as plastic or composite decks, which are non-renewable.
What makes synthetic decking boards not as eco-friendly is that when plastic or composite boards are sawed, their non-biodegradable plastic lumber dust will spread into the air. This undoubtedly will harm both your health and the surrounding environment. On the other hand, sawdust and woodchips generated during solid wood deck construction are biodegradable.
TEAK DECK'S STRUCTURAL STRENGTH
As teak is native to tropical climates, it has adapted to the moisture and temperature conditions. The growing environment has given the species a spectacular adaptation so that it can easily withstand climate variations. Either snowing in in the North or heat in the South, your teak deck stands firmly and beautifully. This feature is due to its natural oil content, which fills all the micro tubes and prevents humid conditions from ruining your deck. Teak's water repellence makes it a favorite for boat and yatch builders as well.
Teak's oily characteristic also protect the species from insects, bacteria, and termite invasion. Interestingly enough, despite its oily feel, a teak deck is slip resistant in wet areas for foot traffic so you don't need to worry about unfortunate accidents.
Another reason that makes teak the noblest of hardwood materials for your deck is its silicon content that prevents corrosion or oxidation upon metal contact over a substantial length of time. Additionally, teak decks will not crack or warp.
As a whole, with easy, appropriate maintenance techniques, a teak deck will last for many decades, and the investment will add value to your home.
TEAK DECK'S EASE OF INSTALLATION
Teak is relatively easy to work with in every sense. It's moderately hard and heavy, yet can be worked reasonably well with hand or machine tools. Furthermore, what makes teak strong which is the high level of silicates (up to 1.4%), which can have a noticeable effect on cutting edges.
It is recommended for installers to pre-drill the decking boards in order to create the holes for screwing and nailing later on.
If you consider gluing, it is advisable to do so on freshly cut surfaces. Using a solvent to wipe the surface of the wood prior to gluing might be necessary due to its oily nature.
If you want to avoid visible crew holes on the surface, go for tongue-and-groove teak decking boards. They are fast, available everywhere and can be installed with ease.
TEAK'S VERSATILE DECKING APPLICATIONS
Teak is also an impressive thermal insulator, which translates into a cooler surface to walk on. Teak decking boards are available in a multitude of sizes and thicknesses
Teak decking can be well suited for various applications, homeowners can indulge their creative design ideas and apply them to areas such as pool areas, balconies, walkways, sidewalks, sunrooms, courtyards, pergolas, barbecue areas, and so on.
Thanks to teak's spectacular dimensional stability, it is virtually suitable for all possible applications. It is also important to note that teak is not as hard as some of the other hard woods and need to be used with caution in high traffic area. Talk to an experienced contractor to make sure your ideas are structurally and visually well executed.
TEAK DECK'S MAINTENANCE TECHNIQUES
A beautiful timber deck will require proper maintenance to keep it in optimum shape. Even with teak's exceptional advantages, it still deserves regular attentive care.
There is no need for sealants or preservatives when it comes to maintaining teak decking. With solid teak boards, it is always optional to sand or refinish depending on the condition of your deck.
When it comes to cleaning teak deck, avoid the strong two-part acid type teak cleaners. Also avoid high-pressure cleaners, since teak wood often comprises of teak heartwood and white teak (teak sapwood) so using such aggressive cleaners will blast off the soft white teak portion. This results in ridges across the surface which will require sanding your teak deck as a remedy. Hard brushes or strong cleaning detergents are also a no-no for teak decks.
If you prefer teak's natural weathering to a silvery grey shade, leave it in its natural state. This is considered the traditional way to achieve this look effortlessly. On the other hand, some homeowners prefer retaining teak's freshly sanded colour. One of the treatment options to maintain teak in its natural state is to apply traditional teak oil.
Besides maintenance methods for teak decks in residential areas, there are also a couple of tips for teak-decking in boats, which are quite similar. The best way to keep your deck in top shape is by cleaning it regularly. A once-a-week gentle washing will be sufficient
Recap on the qualities of teak decks
1. Golden brown for a golden look - striking visual appearance, adapts to all architectural styles.
2. Extraordinary natural characteristics translate into durability and resilience, which result in exceptional longevity when properly maintained.
3. Fairly easy to work with when following a specific teak-tailored installation guide
4. Versatile applications because of its dimensional stability and sophisticated beauty, allowing for creativity with different design ideas
5. Requires simple caring techniques, leaving untreated still brings about beautiful color.