Posted by Alice on 2016-11-15
Benefits from Tropical Hardwood Pergolas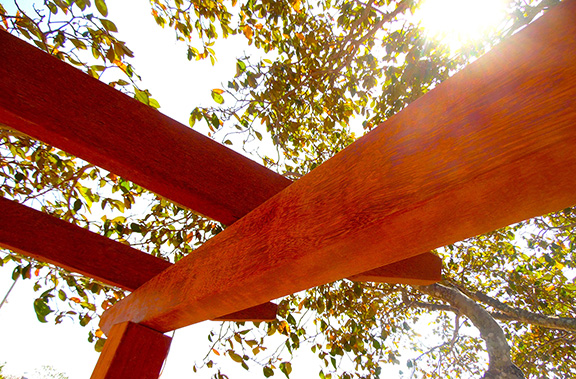 Tropical hardwood pergolas are very versatile and can be made in many different styles, shapes, and sizes in order to fit your landscape. They can be very durable when made from quality tropical hardwood.

You can personalize your hardwood pergolas by hanging plants, installing lights, or adding lattice to help climbing plants. Polycarbonate roof panels can be installed on top of the timber pergola if you prefer to have more shade.

We have listed the following benefits of owning a tropical hardwood pergola.
Increases the value to your property
It creates an extra room outdoors adding value to your property
Wood pergolas add an outdoor structure that creates a visual interest and maximizes the floor space. An outdoor room will give you advantages over other properties that have not effectively taken advantage of their extra space.
Take your garden to the next level
You can make your pergola the focal point in your garden. Planting, flowering, and fragrant vines will thrive on your pergola. The plants will give you constant flowers and aroma. The plants can be trained to grow using vertical posts or with the help of a lattice. Pergolas are also very strong and can hold hanging plants. Gardeners can appreciate their plant's blossoms under the comfort of their outdoor pergola.
Your own outdoor room
Everybody loves a comfortable outdoor space where you can enjoy the shade and breeze. A pergola will be the perfect excuse for spending time outdoors. Investing in a pergola will allow you to devote more time outside when it might not have been possible or comfortable without one. Hanging lighting or permanent spots are useful, beautiful, additions to a pergola; they allow you to enjoy your outdoor space even after the sun's gone down.
Add to your home
There are so many designs, and options for your pergola. A freestanding pergola will add to your home without disturbing your current construction. A pergola built against the house makes the transition from indoors to outdoors minimal. Both options work perfectly with patios, terraces, or lawns. You can complement them with plenty of plants and a dedicated seating area.
Great place for entertaining
Your new outdoor room will be the perfect space for a party, suitable to use almost all the year round. You can also have your family dinners under the shade of a pergola. A pergola is tailor-made for outdoor parties. With condensed planting it offers shade from the sun, and at night time a sheltered, distinctive place to eat. If you've planted your pergola with fragrant vines your guests will be immersed in the delightful scent all evening.