What Makes Cumaru Decking So Special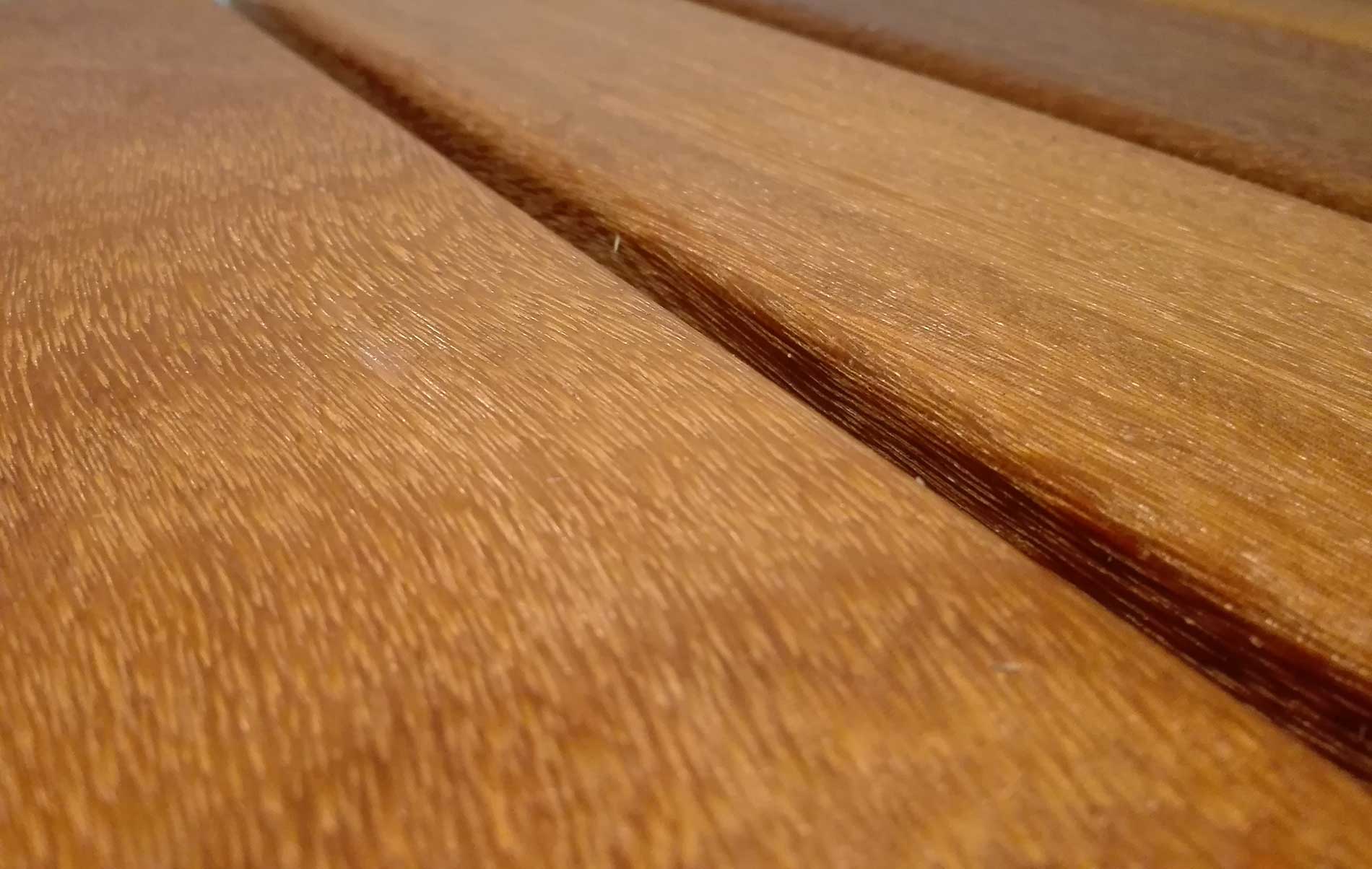 Hardwood species have been the ultimate choice for many high-end residential decking and commercial decking projects. It's commonplace for us to hear from our customers who own hardwood decks, who praise their exceptional durability, significant strength, and unique, wonderful aesthetics. Among those, Cumaru is one of the most popular timber decking materials favored and recommended by professional woodworkers. Let's find out what makes it so outstanding.
CUMARU WOOD'S PROFILE
Cumaru (pronounced Koo-mah-Roo) is also known as Almendro, Brazilian Teak, Tonka, and Tonquin Bean. Its botanical name is Dipteryx Odorata. This species is a tropical hardwood grown and harvested in South America, more specifically in Panama, Colombia, Ecuador, and Nicaragua. In particular, we have an exclusive, limited supply of Cumaru harvested from sustainably managed sources as well as man-made lakes in Panama, like Lake Bayano. The submerged tropical hardwoods found here are often referred to by the indigenous people in the area as "sunken treasures".
Cumaru wood is widely trusted for high quality interior flooring, exterior flooring, exterior decking, pergolas, and more. It is also used as a popular material by the furniture industry.
CUMARU DECKING'S VISUAL QUALITY
When one steps onto a Cumaru deck, one will be fascinated with a rich display of a soothing golden tan to a reddish brown colours with dark grain accents throughout its surface. Known as a very dense wood, Cumaru decking exhibits interlocked grain with a coarse, wavy texture.
Cumaru decking provides a dramatic and beautiful variation of grain. You would not expect the see the exact same appearance on two Cumaru decking pieces. Its rich presentation reflects an untamed and sophisticated beauty, which is the reason why so many five-star hotels and major commercial projects in Brazil purchase this hardwood species for their timber decks. Stylistically, Cumaru decks blend smoothly into any setting, either modern, traditional, or rustic.
CUMARU DECKING'S STRUCTURAL STRENGTH
When evaluating the suitability of a particular wood species, one must not leave out the hardness, various strength elements, and the weight of the species. What makes Cumaru decking so special is its structural characteristics and mechanical properties that make up its strength.
Speaking of durability, Cumaru decking has a notable resistance against all types of severe weathers and punishment. Without the need of chemical use, it is reported to be also resistant to rot and decay throughout fibers of the wood, which owns up to the heartwood component of the species. The same goes with matters related to mold, fungus, and mildew. Bear in mind that the wood might have a small susceptibility to some insects' invasion.
Technically speaking, Cumaru decking is measured 3540lbs in the Janka hardness scale, making it approximately three times harder than that of regular teak decking, and double that of oak decking. What accompanies and enhances Cumaru decking's strength is actually its density of 1.07g/cm3. The denser the wood, the more it will guarantee the owners of the ability to perform under pressure of heavy foot traffic and abrasion.
Another important factor is the fiber bending strength of Cumaru lumber and Cumaru decking, which is 22,400 psi. This translates into the ability to withstand over 22,000 pounds (about 9979 kilograms) of pressure per square inch before a Cumaru board can be broken. Cumaru decking attains a solid feel, while there is little bounce to it.
When it comes to ranking the durability and strength of typical commercial and residential timber decking materials, Cumaru is only second to Ipe (Brazilian Walnut) and surpasses many other popularly used wood such as Tiger wood, Purple heart, Yellow pine, and so on. Cumaru holds the same position in terms of moisture resistance, and shrinkage and expansion degrees.
If you wish to build a deck near a fireplace or fire pit, Cumaru proves to be an ideal choice as it has a class A fire rating, according to National Fire Protection Association (NFPA), which is the same rating given to steel and concrete.
SOME CUMARU DECKING INSTALLATION TIPS
It goes without saying that safety always comes first. Thus, always check and adhere to local building codes. Make sure to wear the right safety equipment for the job, when working with hardwood, especially safety goggles. Keep in mind the substantial weight of Cumaru when lifting the wood boards.
Prior to installation, you can store Cumaru deck boards either away from direct sunlight, such as a garage. For the wood to acclimatize with the surrounding environment, let it sit for a week or two if possible before installation. Otherwise, there is the possibility of cracking, buckling, or warping which might result after installation. This advice naturally works with flooring boards as well.
Because of its superior hardness and interlocked grain, it is not easy to saw and bore Cumaru wood with conventional saws, thus, using carbide tools is recommended. Also, pre-drilling using high quality drill is usually required. To limit shrinking and checking, Wooderra recommends kiln-drying with a simple 10 day drying program.
Cumaru decking boards should not be applied to a solid surface like concrete. To fasten the boards to the structure, you can choose to use stringers or joists. Do not stack the boards too close together, but do allow air to flow between and underneath them for long term stability. A minimum 24″ spacing above the underlying surface and open ventilation from 3 sides is recommended.
Cumaru decking is actually an economical option as it is cheaper in installing costs and also in price compared to that of composite decking.
There are two options when it comes to finishing a Cumaru deck: you can let it oxidize and weather naturally without applying a finish, which will results in a silver/gray colour as time goes, or you can apply finishes so that its natural, rich colour is maintained. Since Cumaru does not let moisture or finishes permeate its structure easily, you will need to apply several more coats of a finish on a hardwood species like Cumaru, as compared to other softer woods. Be careful not to apply too much; otherwise, the surface will be sticky and glossy. Always clean and brush the surface before finishing and re-finishing.
All your hard work will pay off since a Cumaru deck boasts a lifespan of more than 50 years when properly installed.
CUMARU DECKING MAINTENANCE
Cleaning periodically with a simple garden hose should be sufficient. You can add simple soap if necessary. Always follow instructions of professional decking cleaners if you are not familiar with the process. Similar to caring for teak decking, you should refrain from using pressure washers. High-pressure cleaners will create a groove and uneven surface by damaging the sanding and tearing Cumaru wood fibers.
Recap on the benefits and quality of Cumaru decking:
1. Among the top trusted wood decking choices
2. A variety of colours from a golden tan to a reddish brown. Dark, distinguished grain pattern
3. Excellent durability, exceptional strength, high resistance to fire, decay, mold, and rot
4. 50+ year, low maintenance lifespan with proper installation